11' Drywall Lift Panel Hoist Dry Wall Jack Rolling Caster Lifter Lockable Black 846183121602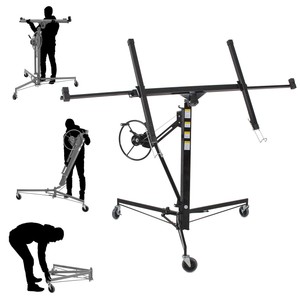 Product Details
Product Information
The heavy-duty drywall lift by Arksen allows you to perform your lifting job easier and faster, making it a great choice for commercial or home use. The lift enables one person to lift dry-wall panels measuring 4 by 15.9 feet without any support. It is possible to raise the panel up to 11 feet high, and there is an extension accessory that increases the lift to 15.4 feet. It supports up to 150 pounds and lowers to 34 inches for easy loading.
Product Identifiers
GTIN
0846183121602
BRAND
Arksen
MPN
018HO18032
UPC
0846183121602
Product ID (ePID)
1956686742
Product Key Features
Non-Domestic Product
No
Model
018-HO-18032
Modified Item
No
---
Untitled Document Powered by Frooition
Free Shipping And Returns
Top-rated Feedback
60-Day Money Back
Automotive
Business & Industrial
Health & Beauty
Home & Garden
Pets & Animal Supplies
Sporting Goods
Tools & Equipment
Toys & Games
11' Drywall Lift Panel Hoist Dry Wall Jack Rolling Caster Lifter Lockable Black Item Description
11' Drywall Lift Panel Hoist Dry Wall Jack Rolling Caster Lifter Lockable Black
11' Drywall Lift Panel Hoist Dry Wall Jack Rolling Caster Lifter Lockable Black
Drywall sheets can weigh up to 150 lbs. making installation a two man (or even three man) job. With a Onebigoutlet drywall lift, you can install full sheets of drywall in a fraction of the time and you can do it with no help. The drywall lift is easy to setup, simple to operate, and is built from commercial grade steel. It is rugged enough to be used on a professional job site and easy enough for a do-it-yourself job in your own home.
Contractor Grade - Crafted from extra-duty, all-welded steel, this drywall lift can hoist panels up to 4' x 8' in size, with a maximum load of 150 pounds, and is designed to last a lifetime
Sturdy - A 5' wide tripod base is supported by anti-slip, non-marring casters that won't damage floors; a 3" triangular frame (in 4' sections) features oversized lock nuts and clevis pins at critical pivot-points, and the base includes a flip-down backstop to secure the lift's position for mounting
Eliminate Risk- Eliminate risk of injury due to the heavy lifting, Prevent strain and injury by letting the lift do all the hard work
Versatile - Features a 11' reach for flat ceilings and over 13' reach on walls/angled ceilings; the cradle rotates 360°, tilts 65° forward/backward and 10° side-to-side for use on both flat and sloped ceilings
Large Cradle - Extends to 10' in width, has rubber caps on 3-position auto-locking outriggers to protect your material, and also features panel support hooks; it retracts to just 36" from the floor when tilted for easy loading
Lifting Winch - Simple-to-operate, single-stage winch (18" wheel, 4" handle) with an extra-strong, braided-steel lifting cable; it includes a brake and a capped handle to protects hands
Easy to Use - Quick, tool-free setup and disassemble for storage
Specifications:
Color: Black
Max reach for horizontal ceilings: 11-feet
Max single sheet capacity: up to 4 X 8-feet
Max load rating: 150-lbs
Casters Size: 5"-inch
Horizontal ceilings max reach: 11ft, angled ceiling Up to 15ft
Assembly Require: Yes
Max Reach for walls: 15-feet; (11-foot maximum lift and half the length of drywall)
Package Include:
Drywall Panel Lift
Manual
Video
USA Seller Ships from our 400,000 sq ft in 2 facility in Los Angeles and Indianapolis.
Direct From Manufacturer Lowest Prices Guaranteed 90 Day Product Protection Warranty.
Same Day Shipping Order before 4am EST Mon-Fri and we will ship your item the same day.
Fast Delivery Item will usually be delivered within 1-3 business day.
About Us
About Us
Shipping
Returns
Contact Us
FAQ
About Us OPTIONTOOLS_Main Onebigoutlet is one of America top online suppliers of specialized Home Furniture, Home Appliances, Garden products, and High Quality Aftermarket Car Parts. For over 10 years, Onebigoutlet has been providing customers years of insurmountable service. Our highly trained, professional staff provides in-depth knowledge and exceptional personal assistance to customers worldwide. Our number one commitment is to provide unbeatable service at unbeatable prices. Founded in the heart of Los Angeles California, our 400,000 sq/ft warehouse houses thousands of the most comprehensive collection of household tools, home & garden and aftermarket automotive items to fit any of your needs. Onebigoutlet works closely with product manufactures, eliminating middlemen so we can pass the savings onto you. We look forward to building upon our tradition of excellence by continuing to provide exceptional products and services.
Shipping
FedEx Shipping From California - Los Angeles From Indiana - Indianapolis
All orders are shipped directly from our warehouse in California or Indiana (Please refer to sub-title)
Item will be shipped the same business day if order before 4 AM EST