11FT Plasterboard Drywall Lift Sheetrock Lifter Hoist Panel Carrier Rolling Tool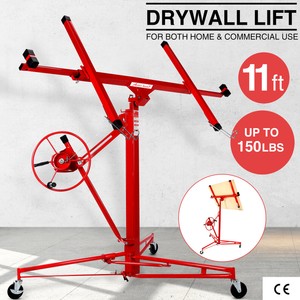 ---
Store category
Sign Up Now !
You may also like
Product Description
Specification:Model : 4'x 16' , 10cm caster wheels for easy rollingMaterial: SteelPower source : hand chainHeight: 11ftPlate size : 4'x 16'Product height: 4'to 11'Apply various Drywall panels up to 4'x 16'10cm caster wheels for easy rollingLoad capacity: 150LBSNet weight: 86LBSGross weight : 93LBSFoldable: YesBrakes: YesColor: Red Features:One Person OperationHolds up to 150lbs hoist with tiltingSturdy welded steel construction with powder coatingAllows one person to handle and apply multiple Drywall panels up to 4ft*16ftMINI Height 4ft,MAX Height 11ftFoot stops to keep the lift in place for safetyDisassemble no tools requiredSturdy welded steelHoist tilting for ceilings and wallsBuilt-in winch with brakeCE StandardEasy to assembleCould lower to 86cm off the floor for easy panel loadingPerfect For Both Home & Commercial Use The Drywall lift has following components which must be assembled before use:1.Tripod base assembly2.Frame assembly, which includes a winch assembly and standard telescoping lift sections3.Cradle assembly, without its detachable cross arms4.Two cradle cross arm assemblies5.User's Manual Included Payment Delivery details Terms of sales About us Contact us Payment We accept the following forms of payment.PayPalPayment Method 2Payment Method 3, etc.We only accept PayPal Payment. For credit card or debit card, you can make the payment via PayPal.Refunds are normally issued within 2 working days. If you need any further information regarding payments, please contact us via message. Delivery details Items will be shipped in 2 business days after payment is received in full. If you do not receive your products within the proper time, please contact us.We advice you to check if your ordered products have arrived in perfect condition, before signing the delivery form, so please open and check your order when you receive it. If you are not satisfied with the goods upon delivery, please do not sign the delivery form and contact us ASAP. All items and parts of the product must be checked for any damage prior to assembly. Terms of sales

We work every day to provide you with the best quality products at the best affordable price, and truly hope you will be pleased with the product you have ordered with us. However, if for any reason you are not, please follow the instructions for returning products.

If for any reason you wish to return your purchase you must notify us with an message providing a simple explanation of the reason why you want to return the products. We normally answer you within 24 hours. Our customer service team will contact you with all the necessary procedures. About us LIHO GROUP offers a wide range of products from furniture supplies to economical lifestyle goods to provide you a fruitful experience.

AMAZING PRICE

No physical stores. No middleman. We ship the products directly from the manufacturers, and pass the savings to you. Without the middleman we connect you directly with the manufacturers, saving you up to 70%.

COMPROMISED QUALITY: We strive to accommodate Buyers with the largest selections of unique and high quality goods sourcing directly from top manufacturers at extraordinary online bargain price, without sacrificing performance.

100% SATISFIED CUSTOMER SERVICE

At LIHO GROUP, we want you to be 100% satisfied with your purchasing. So, we continually strive to provide you with a quick and convenient shopping experience first time, every time. Contact us If you have any questions, please contact our customer service team. We will try our best to answer you as soon as possible.