1907 DEADWOOD DAKOTA Queen Esther Gold Mining Co. Stock Certificate IRON CREEK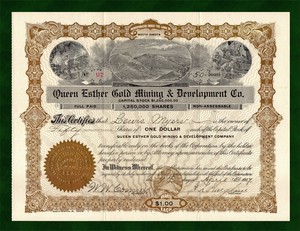 ---
  ~  AUTHENTIC EARLY WESTERN STOCK CERTIFICATE  ~ 
1907 QUEEN ESTHER GOLD MINING AND DEVELOPMENT COMPANY 
Incorporated (in 1906) Under the Laws of South Dakota
Cert.# 97 
Stock certificate issued to Lewis Myers for 50 shares. 
Property located near Iron Creek in Lawrence County. Signed by W. W. Conner as secretary and A. L. Kingdom, president. DEADWOOD, SOUTH DAKOTA stamped into the shiny-gold corporate seal. Printed by the Omaha Printing Co., Omaha, NE.
~  111 years old  ~
An excellent piece of Black Hills mining history!
Condition:  Two vertical folds - no tears.
Measures about 11 x 8 & 1/4 inches
 ~~~~~~~~~~~~~~~~~~~~~~
Winning bidder pays $3.95 for shipping & packaging to U.S. destinations. (Shipping is $7.95 for Canadian buyers and $12.00 for all other non-US buyers) All documents will be shipped in a sturdy cardboard mailer. 
*  SHIPPING IS FREE FOR ANY ADDITIONAL COMBINED CERTIFICATES  *
ANY QUESTIONS YOU MAY HAVE REGARDING THE AUCTION OR PAYMENT OPTIONS ARE ALWAYS WELCOME....
~~~~~~~~~~~~~~~~~~~~~~~~~
I have been in this business for many years and sell only real historical documents. This is NOT a reproduction - guaranteed. You can bid with confidence.
~ Old stocks & bonds make great gifts...and look very nice framed in the home or office ~