BoardMate - Drywall Fitting Tool, Supports The Board In Place While Installing 5391744787230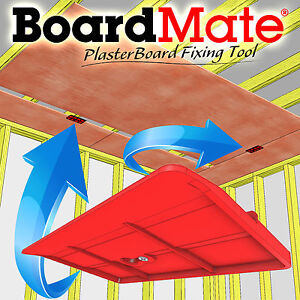 ---
"I bought two BoardMates at the Edinburgh Self building & Renovating Show and went on to use them fitting 385 sheets of plasterboard. They are invaluable and a must buy for the DIY self-builder." – Martin Davies (Edinburgh, UK)
"It does make life a lot easier. We are at present redoing our offices, they have saved us so many hours in labour." – Martin Pearson (Plymouth, UK)    
"Putting up 8' x 4' boards on ceilings is now a one man operation for me. What an excellent tool." – Arlo Betts (Woking, UK) 
"I have been using your BoardMate on my 60 feet diameter dome house in Salt Lake City UT USA. I have to say your board mate is really useful" - Drew Callis (Salt Lake City, USA)  
"As an engineer, I was really impressed by the clever but simple design - it's also been very well manufactured." – Charlie Holmes (Eastbourne, UK)    
"Outstanding product, saving money already." (Comment received 3 days after order) – Sam Corker (Hampshire, UK)    
 "Ingenious product, very solid construction. Great transaction!" Colin Blake (New Hampshire, USA)    
Trade Endorsements     
KNAUF - Drywall Board Manufacturer "Its simplicity yet practical application makes it a very useful aid in the building industry."    
LAFARGE PLASTERBOARD - (Steve Howard - Product Training Manager) "I have had time to use it myself and can now honestly say that it is superb."    
KOMFORT SYSTEMS - Drywall Distributor "This little tool will become an essential piece of kit for all wall boarders."    
LEEDS COLLEGE OF BUILDING - Plastering and drywall training center "The tool is a vital aid to anyone fixing plasterboard."    
GYPROC SPEED TAPE - Tool division of British Gypsum Ltd "Having been developed through 'hands on experience', it offers considerable benefit to drywall fixers."    
WIMPEY TRAINING - Plastering and drywall training centre "Both the trainees and myself found the tool to be very beneficial when fixing boards to ceilings and sloping walls."    
CONSTRUCTION INDUSTRY TRAINING BOARD "The consensus of opinion is "why hasn't something like this been available before now?" It is so simple and really is an extra pair of hands."    
CENTRAL PARTITION SYSTEMS - Contractor "A most useful tool, having used it, our fixers won't work on ceilings without it."     
SANDSITE LTD - Contractor "It's an excellent tool. I can fly around a ceiling in a fraction of the time it would take with a dead man."  
PROFESSIONAL BUILDER - Trade magazine "The cost of a pair of Boardmates can be recovered in less than an hour's work"      
Frequently Asked Questions     
Q. Do I get 2 BoardMates for £5.95?
A. Yes, they are sold as a pair (2 units per set)  
Q. What thickness of board is BoardMate suitable for? 
A. Any. 
Q. What is the working life of BoardMate?
A. Boardmate is made of non-wearing ABS Plastic, designed to last forever.    
BoardMates Are sold as a set of 2. Manufactured of Pro Grade ABS Plastic. Designed to last forever. Come with a lifetime warranty. A Full Money Back Guarantee if dissatisfied for any reason. 
Delivery - All orders are dispatched same day immediately upon order (Mon - Fri) up to 4.30 PM
USA & Europe - 2 - 3 working days
Rest Of The World - 3 - 4 working days
® BoardMate is a registered design product of Marshall Tools Ltd. All Rights Reserved.