Drywall Lifter 16ft Panel Rolling Lifter Lockable Tool Plasterboard Home Use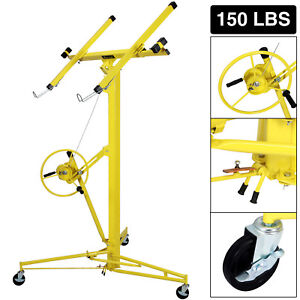 ---
 ▌ Product Details Made a two man job into a one man job.With our 16ft drywall lifter, you can permanently save money. Our 16ft drywall lift allows one person to lift drywall panel that is up to 4ft x16ft in size, without assistance, this is a labor-saving option. It has several remarkable features, the panel can be raised to height of 16ft-19ft for attachment to level ceilings or (with the lift's cradle tilted) to sloped ceilings or side walls.The Lift's cradle could lower to 4.6ft off the floor for easy panel loading. Foot Stops to keep the lift in place for safety and can support up to 150lb.   ▌ Specification   *Material: steel*Apply various Drywall panels up to 4ft*16ft*4" caster wheels for easy rolling*Load capacity: 150lb*Power source : hand chain*Foldable: Yes*Brakes: Yes*Color: yellow   ▌ Package include 1x 16ft drywalll lifter1x Installation manual    ▌ Features  
Lifts 16ft ceiling & 19ft wall.
Sturdy welded steel construction with powder coating.
Apply various drywall panels up to 4ft*16ft.
Could Llower to 4.6ft off the floor for easy panel loading.
0.33ft caster wheels for easy rolling
Hoist tilting for ceilings and walls.
Built-in winch with brake.
Foot stops to keep the lift in place for safety.
Easy assembly.
Disassemble no tools required.
Perfect for both home & commercial use.
CE standard.
 ▌ Delivery details   We make the delivery within 1-5 working days after the full payment has been received. If you do not receive your products within the proper time, please contact us. We ask you to check whether your ordered products have arrived in perfect condition, before signing the delivery form, so please open and check your order when you receive it. If you are not satisfied with the goods upon delivery, please do not sign the delivery form and contact us ASAP. All items and parts of the product must be checked for any damage prior to assembly.