Stk-Hungerford Iron RR Tie Manufacturing Co. Corning, NY See ALL images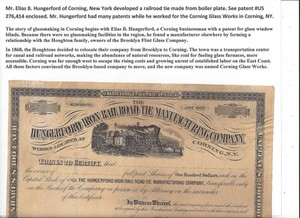 ---
Hungerford Iron Railroad Tie Manufacturing Company
Corning, NY
See ALL images
**NOTEWORTHY**
Dated: Unissued dated 188-
Images:
Shows I'm doing
POSTAGE 3.75 Postage send First Class with tracking, U.S only
NON U.S & Canada, case by case, starting @ $6.75 I do ship world wide. --
All the certificates and all other items I sell are sold as collectibles only; although they are authentic, they no longer hold financial value.
All the certificates I offer and all the other items I offer are considered to be in NOT perfect condition. Do check scans.
I do have other items up for auction.
I Do Combine