Troy DPH11 Professional 19' Drywall Panel Hoist Jack Lift Lifter Tool +Extension 735346410007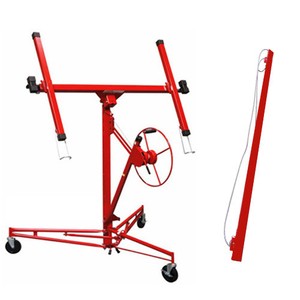 ---
Free Shipping Over $49 Toggle navigation
Troy DPH11 Professional 19' Drywall Panel Hoist Jack Lift Lifter Tool +Extension
Model: DPH1116
FAO SKU: DPH1116
Brand: TROY
Condition: NEW
The Troy Drywall Lift has an all welded steel construction, tool-free assembly and teardown, single stage winch with brake, and can be used by one person. It has a 11' maximum reach for horizontal ceilings, and 15' maximum reach for walls (determined by the 11' max lift and half the length of drywall). It can hold a 4' x 16' single sheet capacity, with a 150 pound load rating, has 5-inch casters, and weighs 105 pounds. This lift also carries a Lifetime Warranty for parts or factory defects. There are not many other sellers that sell professional drywall lift, and they can't beat the price and quality of this product. Work Smarter - Not Harder, Advanced Technology with a superior design, this lift will provide you with a lifetime of service.
Features
One person Setup and Operation
Prevent strain and injury by letting the lift do all the hard work!
Get sheets in place and mounted in a fraction of the time
All welded steel construction
Fast, single stage winch with brake
Tool free assembly and teardown
What's in The Box
11 Foot Drywall Panel Lift - DPH1116
4Ft Extension
Owner's Manual
Warranty
Limited Factory Warranty
30 Day Satisfaction Guarantee
Specifications
Model
DPH1116
Horizontal Reach
15-Foot
Walls Reach
19-Foot
Single Sheet Cap
4 x 6-Foot
Load Rating
150 lbs
Weight
105 lbs
WHY FACTORY AUTHORIZED OUTLET? SECURE & HASSLE FREE SHOPPING All items are covered by manufacturer warranty. FAST SHIPPING Most orders ship within 2-3 business days via FEDEX Ground shipping. CUSTOMER SERVICE Call us toll free: 1-800-629-3325 CUSTOMER SATISFACTION GUARANTEED All our sales are backed by a 30-Day Satisfaction Guarantee. FREE SHIPPING ON ALL ORDERS OF $49 OR MORE Factory Authorized Outlet. All rights reserved. Products shown as available are normally stocked but inventory levels cannot be guaranteed.